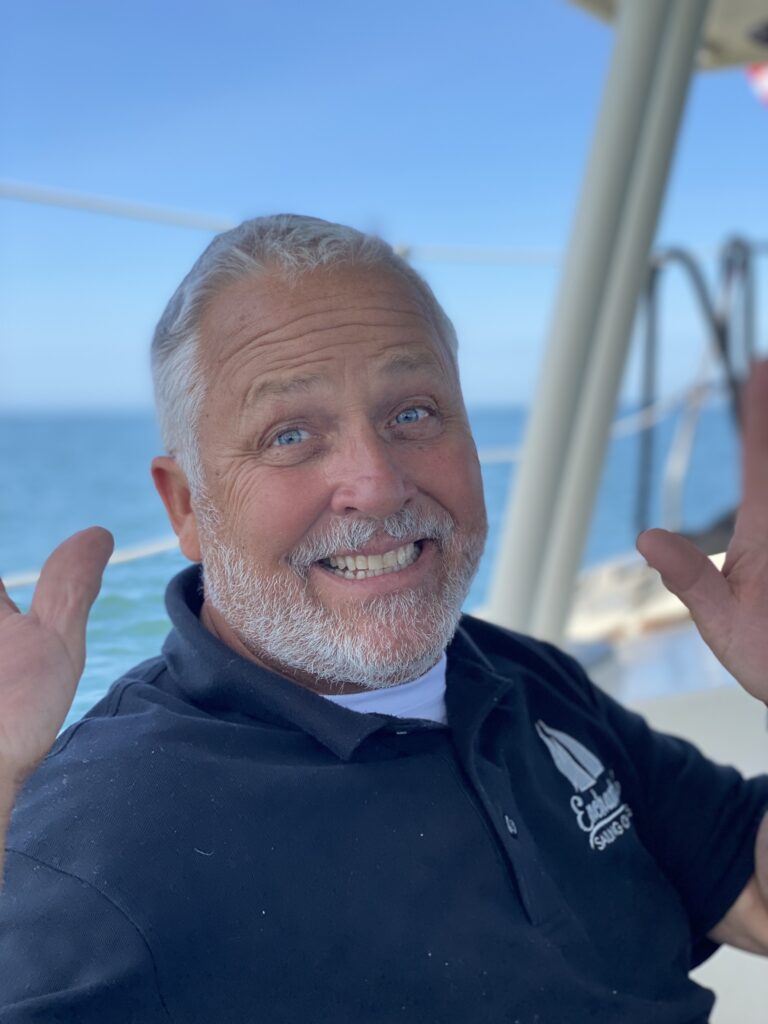 CAPTAIN JOHN V. JAQUES
Hi, I am Captain John!
I began sailing in 1965 at the age of 10.
A neighbor was selling an 11' Sea Snark sailboat. I'd earned and saved enough money from cutting lawns to be able to finally purchase it. As you can imagine the love of sailing grew from there! I was lucky enough to live a short distance away from Lake Michigan and spent most of my summers sailing along the sandy beaches. Being the middle kid of 8, there was little privacy around home so sailing quickly became my love. I was fortunate enough to be selected as a crew member on a racing sailboat in Chicago at the age of 15.
For the next 3 years I rode the train almost every summer weekend to participate in the races. You could consider me a heavy wind and sea sailor from my Windy City training. I told myself that when I became a captain, I would be a cruiser not a racer. From my early days of sailing I loved the times that we were able to relax and enjoy the magic and the subtle power of the wind. To this day, even after all of the trips that I have made, I still get a thrill out of casting off.
I'd love to give you the opportunity to share my love of sailing with you and your family! It's sure to be a memory for years to come. 
Thank You,
Captain John V Jaques
Enchantress is a 44′ Caribbean Sailing Yacht, typically referred to as a CSY 44 WALK- OVER.
Originally built for chartering in the Caribbean, the CSY's ruggedness also makes it a proven vessel for cruising around the world. The wide beam allows for plenty of stability with ample storage for all of our cruises. A custom-built cockpit hardtop allows for unique "above the water" seating with expansive views of the Atlantic and beyond. There is an on board head.