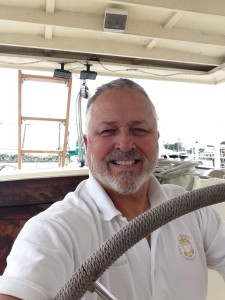 CAPT. JOHN V. JAQUES
Hi, I am Captain John.
I began sailing in 1965 at the age of 10.
A neighbor was selling an 11' Sea Snark sailboat, I had earned and saved enough money from cutting lawns to buy it. As you can imagine the love of sailing grew from there. I was lucky enough to live a short distance from Lake Michigan and spent most of my summers sailing along the sandy beaches. Being the middle kid of 8 there was little privacy or quite around our home and sailing quickly became my love. I was fortunate enough to be selected as a crew member on a racing sailboat in Chicago at the age of 15.
For the next 3 years I rode the train almost every summer weekend to participate in the races. You can consider me a heavy wind and sea sailor from my windy city training. I told myself that when I became a captain, I would be a cruiser not a racer. From my early days of sailing I loved the times that we relaxed and enjoyed the Magic and the subtle power of the wind. To this day even after all of the trips that I have made I still get a thrill out of casting off.
Please give me the opportunity to share this wonderful love of mine with you and your family, I am sure that you will not be disappointed.
Thank You
Captain John
CAPT. JASON COX
Jason was born and has lived in Myrtle Beach for most of life, enjoying the multiple water-related activities that the area has to offer. After graduating from college in Atlanta, getting married, and starting a career in graphic & web design, Jason and his wife, Amy, decided to leave the "rat race", get back by the ocean, and return to the Myrtle Beach area.
Jason's passion for sailing began years ago when his family purchased a 44' CSY for cruising and chartering the local waters during the summer. Having learned the basics of sailing while crewing, Jason quickly fell in love with it and set his sights on getting properly trained and certified through the American Sailing Association, first as a student, then a few years later as a sailing Instructor. As part-time, then later, full-time Captain of his family's charter business, he decided sailing is what he wanted to do for his career, closed his web design business and began focusing on sailing full-time.
While chartering and teaching basic sailing skills to those interested, Jason decided to open Myrtle Beach Sailing School in 2013 and began non-certification instruction on Island Song, a 32' Morgan 321. In 2014 he decided a more formal, progressive learning curriculum would be beneficial to his students and opted to become an American Sailing Association Certification Facility.
Jason now spends most of his working time on the Atlantic teaching others the lifetime enjoyment of sailing, and delivering sailboats up and down the East Coast or to the Caribbean. In his spare time he can be found with his wife and two sons either sailing, fishing, playing at the beach, or participating in some other outdoor activity.
SUZANNE GOARD
Goard-Jus Pet Portraits
liv in pet sitting
experienced charter crew member
ENCHANTRESS
Enchantress is a 44' Caribbean Sailing Yacht, typically referred to as a CSY.
Originally built for chartering in the Caribbean, the CSY's ruggedness also makes it a proven vessel for cruising around the world.
The wide beam allows for plenty of space down below for storage on one of our all day trips or for sleeping aboard overnight.
A custom-built cockpit hardtop allows for unique "above the water" seating.